Harvest Tyres is a national brand in business collaboration with over 700 authorised distributors Australia Wide. We have a dedicated team working across Australia, with our valued dealer business partners, to support your brand experience.
Our sales & support team service every region of Australia.  Our warehouses are located strategically to facilitate product supply to you via our authorised dealers.
Our definition of customer service is working with you, in ways that work for you.
We know actions speak louder than words and that your agribusiness needs are unique.
The combined knowledge of our dealer network and customer support team in agricultural applications is immense. We believe in sharing our knowledge and are continuously evolving our products based on innovation inspired through our customers application needs.  
We welcome the opportunity to understand your specific tyre application. If you need support – we'll be there to assist when you need specialist advice.
We are invested in building a collaborative long-term partnership through your local Harvest Dealer. We believe in keeping it local.
At Harvest Tyres we say what we mean and mean what we say.  We believe in backing investment in local rural Australia. We believe in doing what we say we'll do  – when we say we'll do.
ON FARM MACHINERY HEALTH CHECKS & TECHNICAL SUPPORT
We like talking tyres – and we like solving problems. 
We have an extensive team of tyre experts based all over Australia who have specialities in various areas of agriculture.
The Harvest team are passionate about ensuring you get the most out of your Harvest Tyres. We understand the importance of tyre maintenance health checks & technical support in preventing or resolving issues and building strong long term customer brand relationships.
We exist to ensure you have the after sales in field support you need. If we don't know the answer individually – there is someone in our team who does. 
We work as a team and are here to help you by phone, e-mail, social media or in person.
WE STAND BEHIND OUR PRODUCT, WE STAND BEHIND OUR CUSTOMERS
Harvest agricultural tyres offer a high industry standard guarantee for our product range.
Our Harvest product guarantee ensures you have the backing of a comprehensive manufacturing and component fault coverage.
We back our products in fit for purpose applications and will support you  in the event of a fault when tyres are used within the Harvest design parameters.
The Harvest product is guaranteed to be free from defects in manufacturing quality and free from component faults during the guarantee period.
Defects that occur within this guarantee period, under normal use and care, will be replaced at our discretion.
As the manufacturer of Harvest products in Australia, Australian Tyre Traders will handle all service, guarantee, warranty and replacement affairs. In the event of a claim – please contact your authorised Harvest Tyres dealer or  contact us directly.     We will facilitate the entire warranty process ensuring you receive our very best management of the claim and customer service.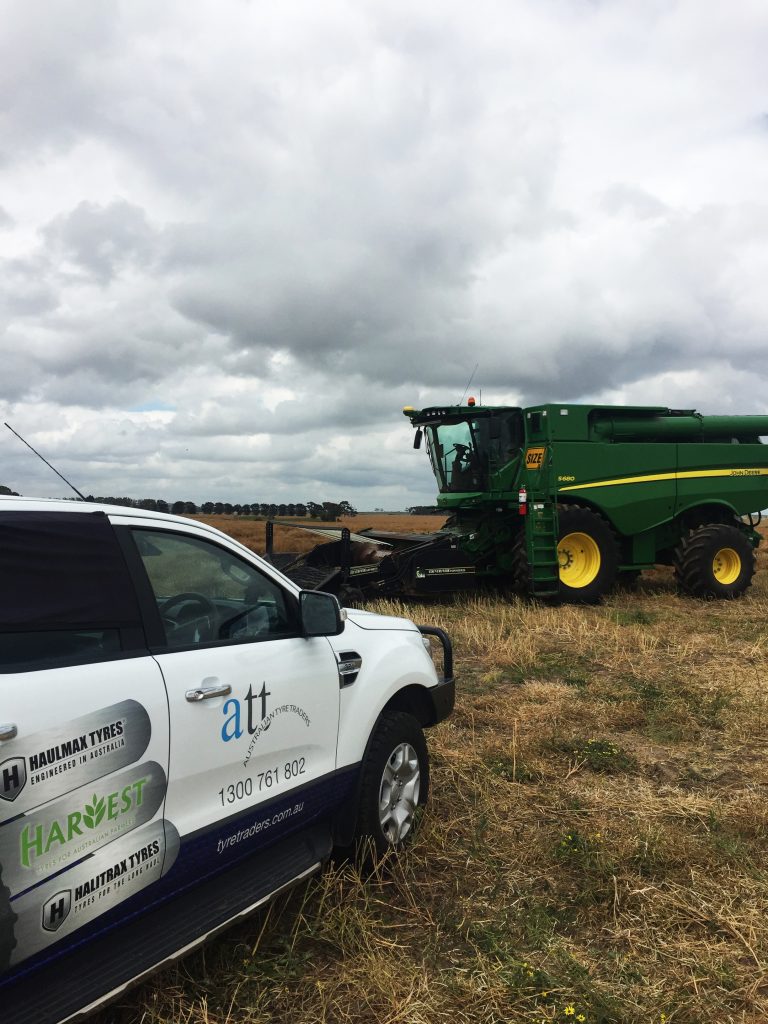 We understand that world-class design and robust manufacturing processes are important.  That is why our Harvest range has been designed to perform in the harshest Australian conditions.    
We stand by our quality with a 5 year pro-rata guarantee on Harvest HB*R1 & Implement ranges and a 7 year pro-rata guarantee on Harvest HB45 & HR45 ranges. 
Experience peace of mind, whatever the agricultural job, Harvest Tyres has got you covered.